Caro-Seuss-el in Islands of Adventure in Orlando
Ride Type
Seuss themed merry-go-round
Caro-Seuss-El Location
The Caro-Seuss-el is located right in the middle of Seuss Landing in Islands of Adventure in Orlando.
Caro-Seuss-el Ride Description
The Caro-Seuss-el is a traditional merry-go-round carousel ride that incorporates nontraditional mounts and music to give it a Seussian feel.
Ridable characters include the camels from One Fish, Two Fish, Red Fish, Blue Fish; the cowfish from McElligot's Pool; the elephant birds from Horton Hatches the Egg; aqua mop tops; and dog-a-lopes, just to name a few.
It is the first carousel to have interactive characters. Riders can use levers and reins to make some of the characters move, blink, and more. The carousel is smooth and gentle for young riders, and the lively Seuss music really adds to the experience.
Caro-Seuss-el Ride History
The Caro-Seuss-el opened in Seuss Landing with the rest of Islands of Adventure in 1999.
Using Express Passes on Caro-Seuss-El
Express Passes are accepted for the Caro-Seuss-el. However, wait times are typically minimal for this ride; you don't always necessarily need an Express Pass to get on quickly.
Single Rider Line
Caro-Seuss-el does not have a single rider line.
Child Swap
Caro-Seuss-el does offer child swap for guests who have children that do not want to ride this merry-go-round.
Caro-Seuss-El Height Restrictions
Caro-Seuss-el does not have any height restrictions. However, guests fewer than 48 inches will need a supervising companion.
Caro-Seuss-El Accessibility
Guests must remain in or transfer to a standard wheelchair to experience this ride.
UO Fan Guide Ride Tip
Look up to see Horton the Elephant. He is watching over his dandelion at the top of the Caro-Seuss-el.
UO Fan Guide Mini Review of Caro-Seuss-el
If you're looking for a thrilling ride, you won't find it on the Caro-Seuss-el. However, this is a very fun merry-go-round for kids and adults thanks to the excellent theming. There are nearly 60 different animals to climb aboard, so you can try to re-ride your favorite or pick a new character each time. The music is a little loud for some people's tastes, but the ride only lasts about two minutes, so it shouldn't be too difficult for most guests to handle.
Caro-Seuss-el Image Gallery
See pictures of the carousel mounts in this image gallery. Use the arrows on each side of the image to navigate through all of the pics.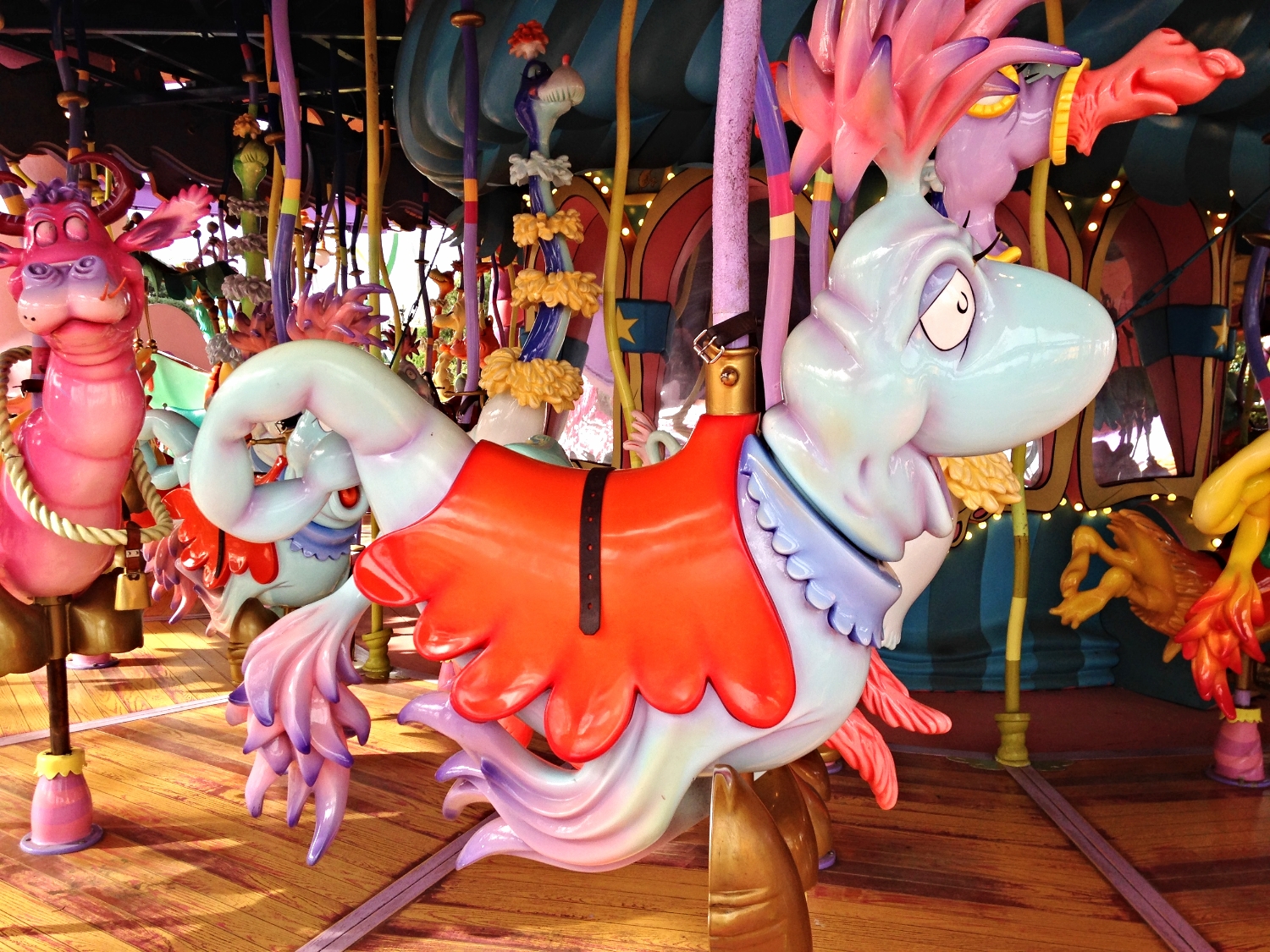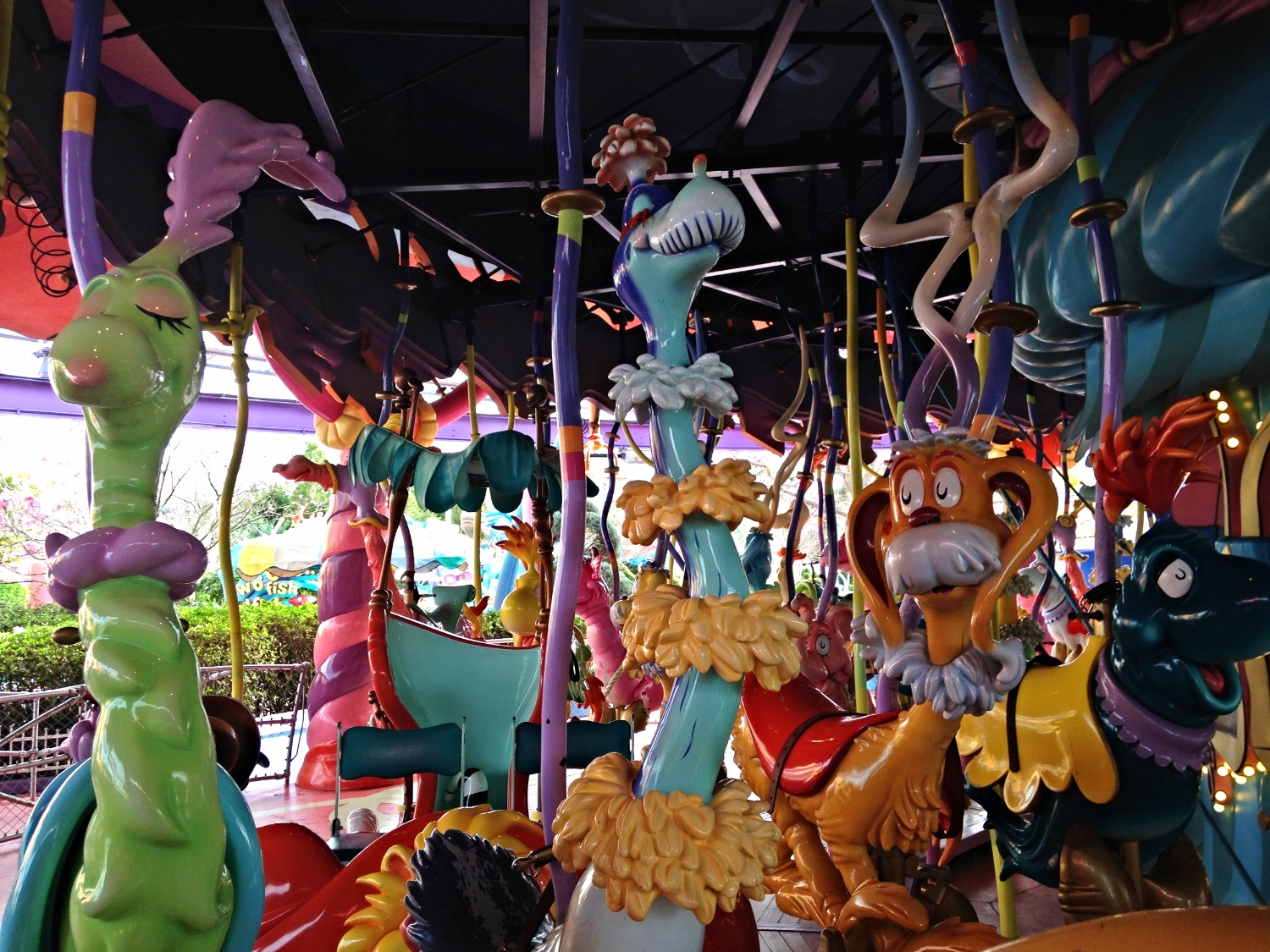 Send Us a Review of Caro-Seuss-el
Do you like to ride the Caro-Seuss-el? Send us your review of this Seuss Landing attraction.
By clicking the submit button, you agree to let UO Fan Guide use your name and review comments on the UO Fan Guide site, blog, and affiliated social media accounts and print publications.