Doctor Doom's Fearfall in Islands of Adventure in Orlando
Ride Type
Thrill ride
Location
Doctor Doom's Fearfall is located on Yancy Street (also known as Villains' Alley) in Marvel Super Hero Island in Universal Orlando's Islands of Adventure. Locate it by looking for the tops of the two high-rise towers and listening for the screams.
Doctor Doom's Fearfall Ride Description
Doctor Doom's Fearfall is a towering thrill ride that revolves around Doctor Victor Von Doom, better known as Doctor Doom, the arch-nemesis of the Fantastic Four. Tired of being thwarted by the Fantastic Four, Doom has decided to harness the fear of park guests with his latest diabolic device. With your fear, he will be able to finally defeat his enemies.
To elicit the fear he needs, Doom sends you up one of two 199-foot towers. You and 11 other people (four riders per compartment; 12 riders per tower) are strapped into a seat, and when the countdown reaches zero, you're all launched 185 feet into the air with a thrust more powerful than a 747 jet engine.
As you accelerate up the tower faster than a space shuttle (literally), your feet dangle in mid-air and you feel weightless - especially when your bottom rises slightly off your seat. You are briefly suspended at dizzying heights before being gently lowered back to the loading platform in a series of gentle air-cushioned bounces.
Doctor Doom's Fearfall Ride History
Although Universal Orlando reportedly considered the idea of a more traditional freefall ride for Marvel Super Hero Island, they eventually decided to go with an S & S Space Shot ride to launch riders up the towers instead. Doctor Doom's Fearfall opened with the rest of Islands of Adventure in 1999.
Express Pass
You can use an Express Pass to skip the lines at Doctor Doom's Fearfall. Wait times without an Express Pass are typically minimal and usually fall between 10 and 30 minutes.
Single Rider Line
There is a single rider line for Doctor Doom's Fearfall, but it isn't always open. Ask an attendant at the attraction entrance to find out if a single rider line is available on the day you visit.
Child Swap
Guests who have children that are too short or too scared to ride Doctor Doom's Fearfall can use the available child swap to avoid waiting in line twice.
Height Restrictions
Guests must meet the 52-inch height requirement to experience this attraction.
Ride Restrictions
Expectant mothers should not ride Doctor Doom's Fearfall. See the attraction entrance for other ride restrictions.
Accessibility
Guests must transfer from a wheelchair or electric conveyance vehicle (ECV) to the official ride seat to experience Doctor Doom's Fearfall; ask an attendant for assistance. Closed captioning and assistive listening is available via park-supplied transmitters and headsets.
UO Fan Guide Ride Tip
Loose articles are not allowed on Doctor Doom's Fearfall. But unlike other rides, there are no free ride lockers nearby where you can store your goods. Instead, you simply place your items in a provided storage bin in the compartment where the ride is located. There are four storage bins in each compartment (two on one side and two on the other side). Other guests will not have access to your belongings while you are on the ride. As you are leaving the ride, be sure to take a second to admire Doctor Doom's red throne, which sits at the top of the stairs in Kingpin's Arcade.
UO Fan Guide Mini Review of Doctor Doom's Fearfall
Doctor Doom's Fearfall is a really fun ride. You can hear rider screams both inside and outside of the park, leaving no doubt that most people find it thrilling. The views are great when you're up at the top, particularly in the third and fourth compartment, which both face the park (the first and second compartments offer a good birds-eye-view of International Drive). We recommend trying the ride during the day and at night for different experiences.
The queue is a little boring compared to some of the others in Marvel Super Hero Island and the rest of Islands of Adventure, but the animated video does a good job of setting up the story, and the surrounding area (outside of the queue) is full of villainy goodness and provides a nice contrast to the rest of Marvel, which focuses primarily on the super heroes.
The drawback to Doctor Doom's Fearfall is that the ride isn't long enough. As you are gently wafting back to the earth, you inevitably want more. A second (or even a third) cycle of launching and falling would improve both the length and the fear factor of this ride.
Doctor Doom's Fearfall Image Gallery
This Marvel image gallery features pictures of Doctor Doom's Fearfall, the surrounding area, and Kingpin's Arcade where the ride exits.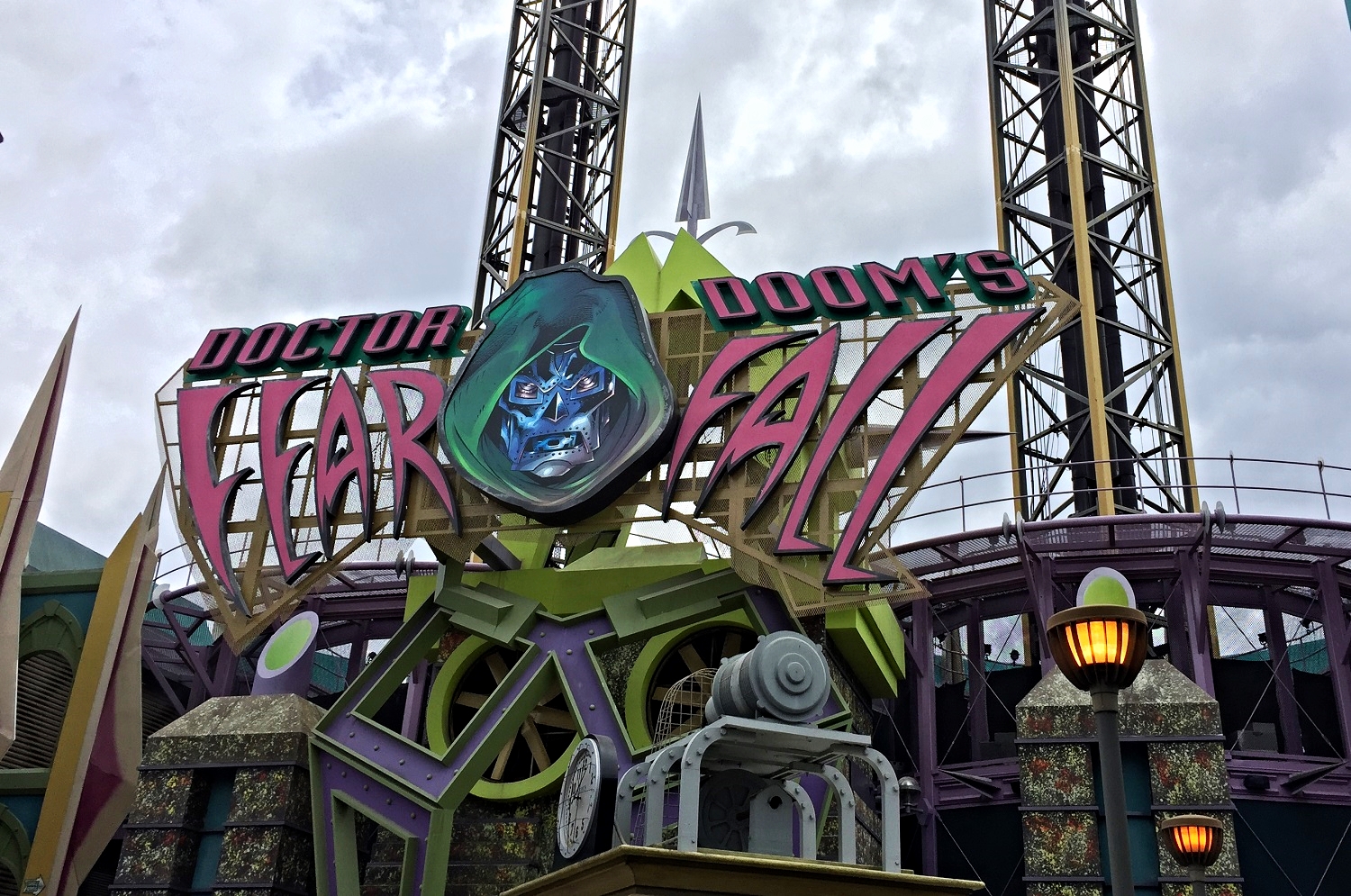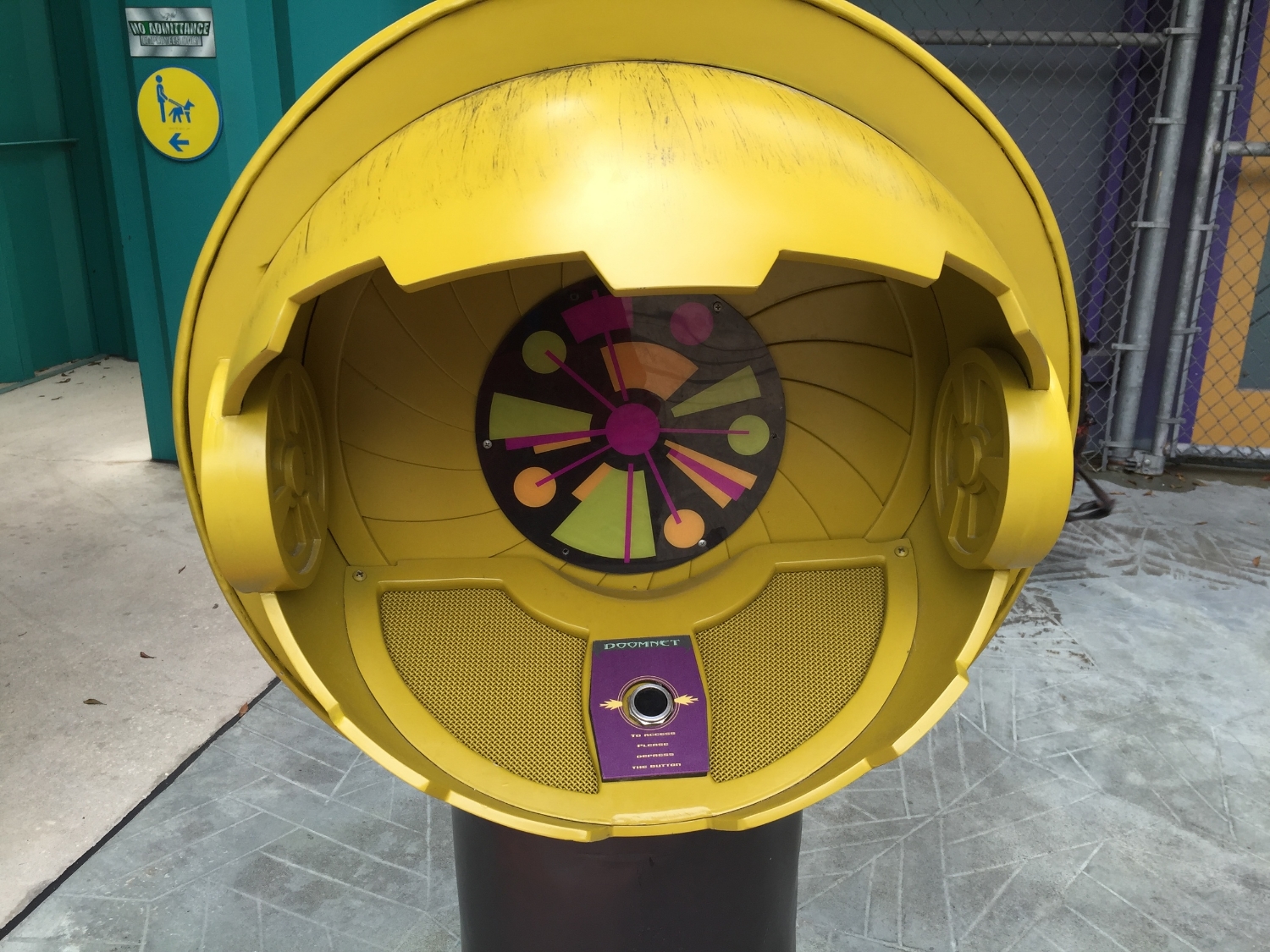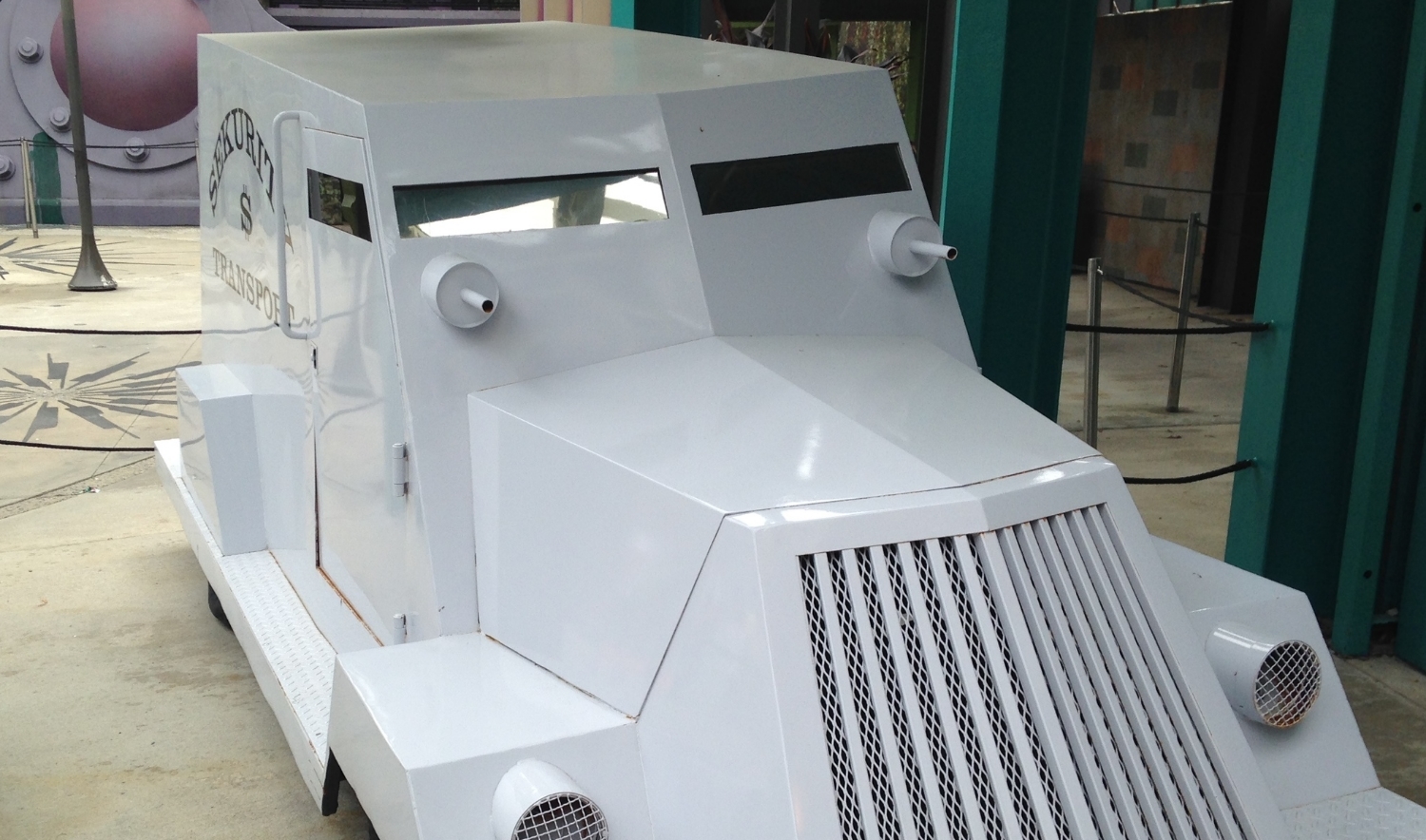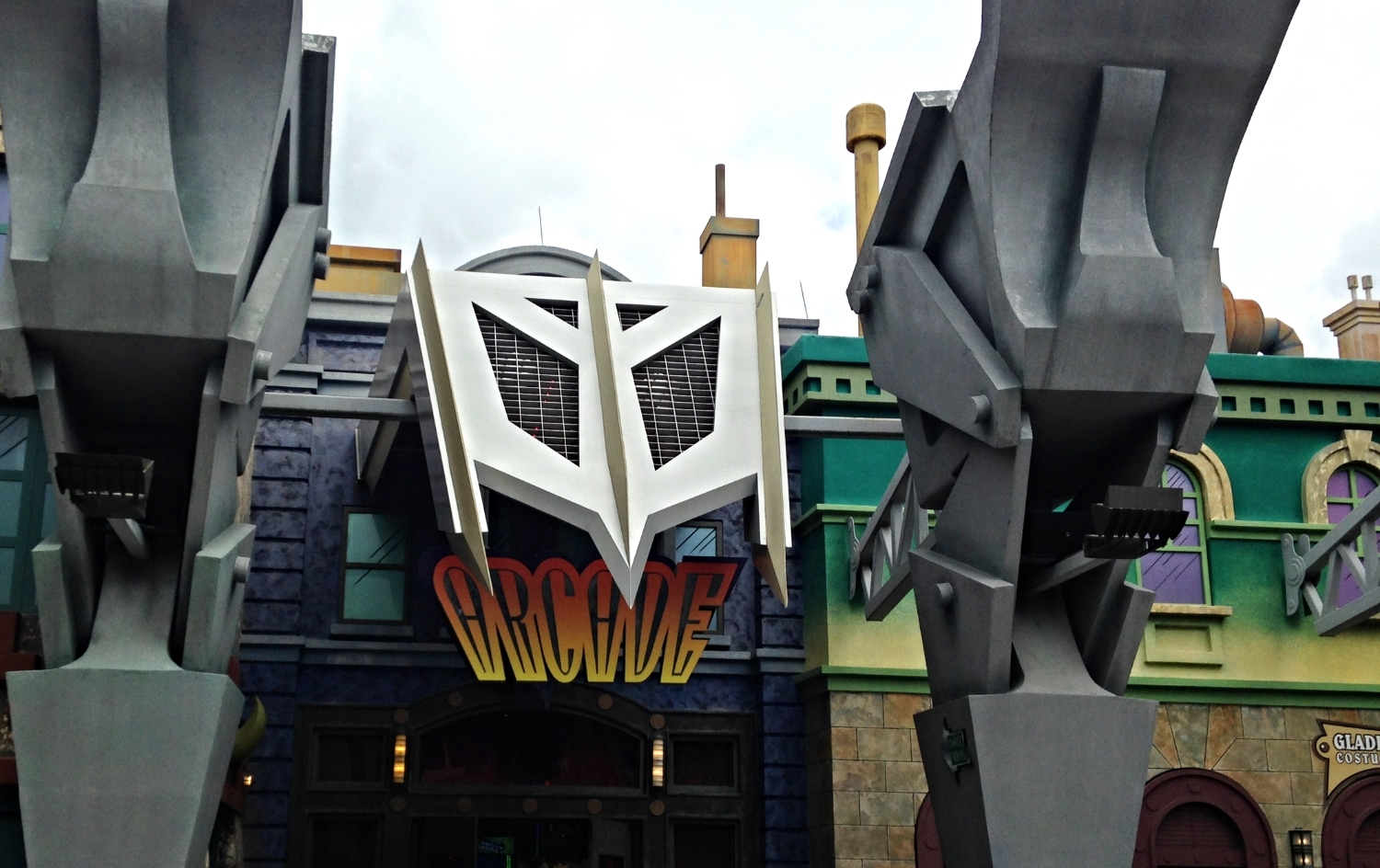 Send Us a Review of Doctor Doom's Fearfall
Have you ridden this thrill ride? Send us your review of Doctor Doom's Fearfall.
By clicking the submit button, you agree to let UO Fan Guide use your name and review comments on the UO Fan Guide site, blog, and affiliated social media accounts and print publications.