Hollywood Rip Ride Rockit in Universal Studios Florida
Ride Type
Roller coaster
Location
Hollywood Rip Ride Rockit is located in Production Central in Universal Studios Florida (USF). You can see the tracks of the ride as you are approaching the park gates.
Hollywood Rip Ride Rockit Ride Description
Hollywood Rip Ride Rockit is Universal Orlando's tallest roller coaster. The ride begins with a 90-degree vertical lift hill that takes you up 17 stories (167 feet) above the ground. This straight-up climb tends to be what people look forward to and fear the most. The following decline, which is almost vertical, too, is actually the most thrilling part of the ride.
The track for this coaster is about 3,800 feet long and incorporates the shape of a treble clef, which is difficult to see from the ground but visible from above (check Google Earth if you would like to see it). One of the more unique track experiences of Hollywood Rip Ride Rockit is a non-inverting loop; this is roller-coaster-speak for a track that loops, but doesn't actually flip you so that you're completely upside down. The track also has a crazy-sharp 95 degree turn and a non-inverting corkscrew. The top speed of Hollywood Rip Ride Rockit is 65 miles per hour, and there are quite a few "near miss" moments that make you feel like you might crash, which only adds to the excitement.
Each ride car is equipped with seat-mounted cameras that record your experience, complete with the music you chose at the start of the ride. Stock images of the roller coaster are mixed in with the recorded footage, and a video is created. When the ride is over, you can check out this one-of-a-kind music video and purchase it if you'd like. If you want to buy, be prepared to spend a serious chunk of change.
Hollywood Rip Ride Rockit Song Selection
The most unique feature of Hollywood Rip Ride Rockit is the customizable music soundtrack. Guests get to select the music they want to listen to for the duration of the ride. Every ride seat has this capability as well as its own individual speakers, so you don't have to worry about pleasing (or displeasing) the person next to you with your song selection.
Genres of music on Hollywood Rip Ride Rockit run the gamut from classic rock, heavy metal, and country to club music, pop, disco, rap, and hip-hop. Before the ride starts, you'll have an opportunity to choose your genre along with the song within that genre that you want to listen to. You need to be quick though - select your music as soon as your lap restraint is in place; the ride will begin whether or not you've made your selection in time. If you don't choose in time, a song will be chosen at random for you.
Hidden Songs on Hollywood Rip Ride Rockit
If you want your Hollywood Rip Ride Rockit experience to be extra special, you can go off menu and choose one of the ride's hidden songs. To do this, hold your finger on the oval-shaped Rip Ride Rockit logo for 10 seconds, remove your finger, and use the keypad to enter in the appropriate three-digit code. We at UO Fan Guide recommend 902, which plays "Rainbow Connection" by The Muppets. One note about choosing a hidden song: digital music videos are not created for hidden songs, so if video proof of your ride is important to you, don't go off menu when making your song choice.
Hollywood Rip Ride Rockit Ride History
Hollywood Rip Ride Rockit cost approximately $45 million to build and was widely thought to be one of the most technologically-advanced coasters in the United States when it officially opened in August of 2009. The ride has shut down periodically for maintenance throughout the years. In 2013, some of the ride's train cars were replaced to create a smoother experience.
Express Pass
You can use an Express Pass to skip the regular line at Hollywood Rip Ride Rockit.
Single Rider Line
Hollywood Rip Ride Rockit has single rider line.
Child Swap
Available
Height Restrictions
Guests must be between 51 and 79 inches to meet the height requirement. (That's right - you can be TOO tall for this ride!)
Accessibility
Guests must transfer from a wheelchair or electric conveyance vehicle (ECV) to the seats on Hollywood Rip Ride Rockit.
Ride Restrictions
Loose articles are not permitted on Hollywood Rip Ride Rockit. This rule is strictly enforced with a metal detector - you will be sent back to the end of the line if you have keys, change, a cell phone, or other items in your pockets. You can store all of your goods at the free lockers near the attraction before you get in line for the ride. This policy is annoying to some people, but it is important to remember that there is a reason for the policy - more than a few things have slipped out of pockets on Universal Orlando roller coasters, and people have reported injuries because things have fallen on them.
UO Fan Guide Ride Tip
Consider using the single rider line. This line may separate you from your companions, but because of the way the ride seats are shaped, it is difficult to communicate with the person sitting next to you anyway. Wait times for the single rider line are almost always shorter than wait times for the regular line.
It should also be noted that Hollywood Rip Ride Rockit is not the smoothest of roller coasters. Some guests consider it a bumpy ride. Follow the safety guidelines presented to you at the start of the ride. If you keep the back of your head against the headrests as directed, it can reduce some of the roughness.
UO Fan Guide Mini Review of Hollywood Rip Ride Rockit
Hollywood Rip Ride Rockit is near the front of Universal Studios Florida; it is hard not to see it when you are in the park or as you are walking up to the gates. The mere sight of the 17-story vertical climb tends to thrill people, and the actual ride doesn't disappoint. The peak of the coaster takes you up so high that you get a great view of the surrounding area. The ability to customize the music also makes the ride experience audibly different each time. If you love roller coasters, this is one that you may want to do again and again. The biggest drawback to this attraction is its queue: it's missing the excellent theming that can be found on some of Universal Orlando's other rides, so the wait can seem more tedious than usual.
Hollywood Rip Ride Rockit Image Gallery
See pictures of the Hollywood Rip Ride Rockit roller coaster in this image gallery. Use the arrows on either side of the image to navigate through all of the pictures.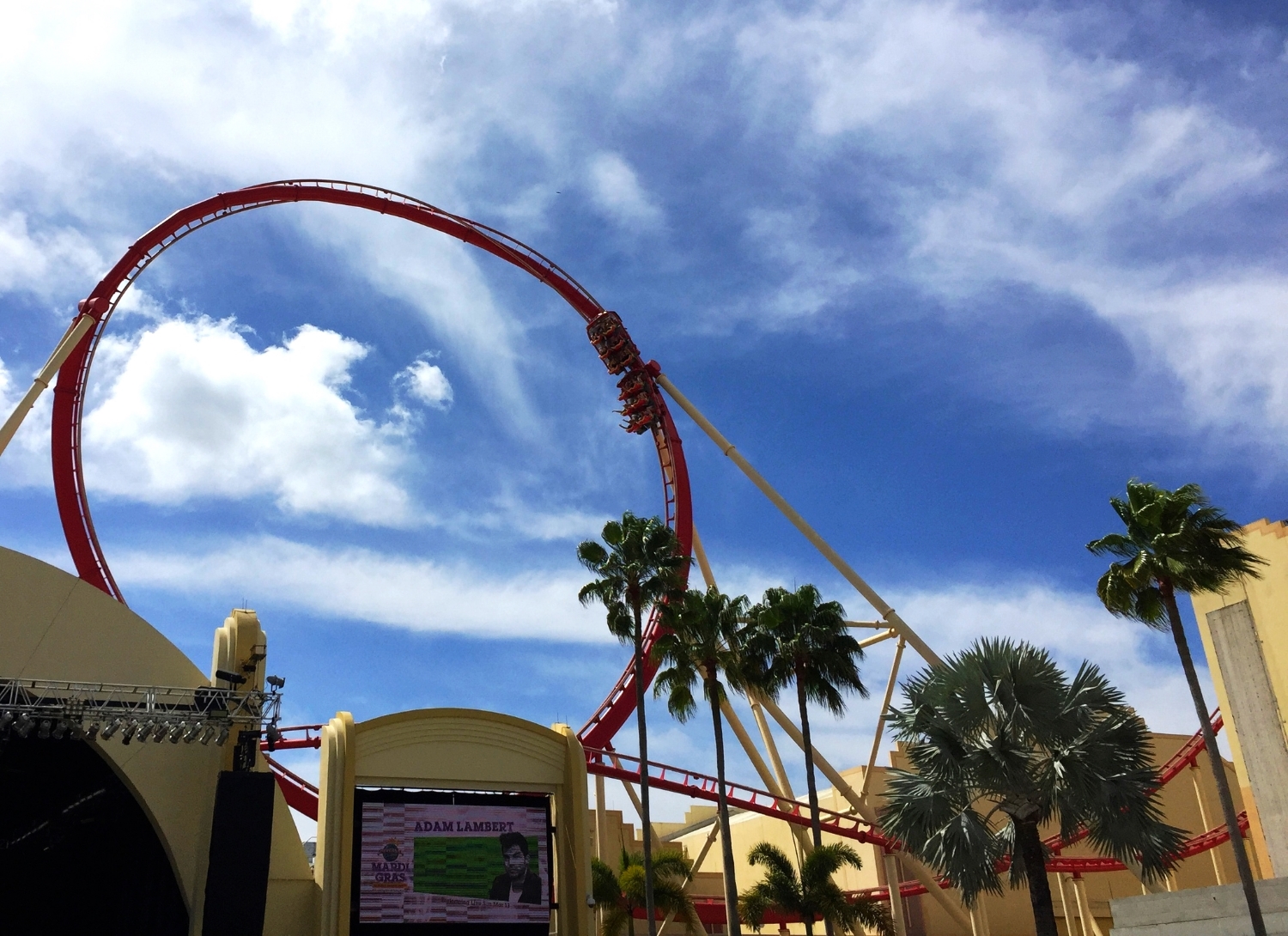 Rip Ride Rockit Video
This official Universal Orlando Resort video gives you a 360 degree view of Rip Ride Rockit. You can almost imagine what it is like to be on this ride. If you like this video, subscribe to Universal Orlando Resort's channel on YouTube for more just like it.
Send Us Your Review of Hollywood Rip Ride Rockit
Did you ride Hollywood Rip Ride Rockit? What song did you listen to? Share your experience by sending us a review.
By clicking the submit button, you agree to let UO Fan Guide use your name and review comments on the UO Fan Guide site, blog, and affiliated social media accounts and print publications.