Leaky Cauldron Menus and Dining Guide
Leaky Cauldron Description and Location
In the Harry Potter books, the Leaky Cauldron is a longstanding London pub and inn frequented by members of the Wizarding community. It also serves as a sort of gateway between the Muggle world and Diagon Alley.
In Universal Orlando, you'll find the Leaky Cauldron restaurant on the left in Diagon Alley right after you pass through the brick wall entrance that separates the London Waterfront and Diagon Alley in Universal Studios Florida. In other words, you don't have to go through the Leaky Cauldron to get to Diagon Alley like the characters do in the Harry Potter books.
Universal's Leaky Cauldron is just a restaurant, not an inn (though most guests would happily give their wand to spend a single night in the place). The interior of the restaurant is modeled after the Leaky Cauldron as it appeared in the Harry Potter films, particularly the Harry Potter and the Prisoner of Azkaban movie. Although you can see an upstairs balcony, doors, and windows when you're inside (and outside) of the Leaky Cauldron, guests only have access to the ground floor portion of the building, which includes a place to order food and an immense dining hall.
Leaky Cauldron vs. Three Broomsticks
The Leaky Cauldron is not the only Harry Potter themed restaurant at Universal Orlando Resort. You can also eat at Three Broomsticks in the Wizarding World of Harry Potter - Hogsmeade in Islands of Adventure. To learn more about the Three Broomsticks menu, prices, and theming, see our Three Broomsticks Dining Guide.
Leaky Cauldron Theming
The theming in the Leaky Cauldron is absolutely fantastic. Guests sit at weathered tables, chairs, and benches, most of which are lined up in a cafeteria style way that is reminiscent of the long tables in the Great Hall of Hogwarts. (Though there are quite a few smaller tables that are situated in darker, more private alcoves.) A huge hearth with a cracked (leaky) cauldron serves as a focal point for the room.
The lighting is dim - no industrial fluorescents here. The Leaky Cauldron is lit primarily by multiple chandeliers and wall-mounted lights meant to resemble Old World gas lamps. At one end of the hall, there is a clerestory (a tall section of wall with windows above eye level), which allows in a little bit of natural sunlight. It is just bright enough to get a good look at the framed pictures of witches and wizards that adorn the walls. As in the movie, the pictures are all different sizes and hung haphazardly about the room.
If you look up when you're in the dining hall, you'll see high, vaulted ceiling and exposed wooden beams. Mythical creatures, like Griffins, are carved into the vault supports, giving the Leaky Cauldron a mythical and magical ambience that you don't see in most theme park restaurants. The Universal Team Members are also part of the theming. They are dressed in Wizarding World attire and help to make even the biggest Muggles feel like they are welcome in the dining hall.
Seating and Service at Leaky Cauldron
When you enter the Leaky Cauldron, a Universal Team Member will direct you to a particular register (there are several) where you can order and pay for your food. Another Team Member will give you a candlestick with a number on it. You will be escorted to a table that is appropriately sized for your party. When your food is ready, another Team Member will bring it to your table and take the candlestick away. Each table is outfitted with plastic utensils, napkins, salt and pepper, and condiments like ketchup and jellies. A Team Member will come by to remove your empty dishes when you have finished your food. Free drink refills are not available; you will need to purchase a second beverage if you need one.
Leaky Cauldron Hours
The Leaky Cauldron is open for breakfast, lunch, and dinner. Opening and closing times vary by season. If you have early entry to the Wizarding World of Harry Potter - Diagon Alley, the Leaky Cauldron may not be open when you arrive, but it does typically open shortly after the rest of the park (about 60 minutes after early entry begins). If you plan on eating breakfast at Leaky Cauldron, we recommend asking a Universal Team Member what time the doors open (you can usually find a TM right in front of Leaky Cauldron), and then riding Harry Potter and the Escape from Gringotts or ducking into some of the shops while you wait.
Making Reservations at Leaky Cauldron
Reservations are not required (or available) for lunch or dinner at Leaky Cauldron. All seating is first come, first served. You can get reservations for breakfast, but only if you book a Harry Potter vacation package (one free breakfast per person at Leaky Cauldron is included as part of the package). If you don't have breakfast reservations, you should have no problem getting a table anyway. You will only be turned away (or forced to wait) if every table has been reserved and filled, which is unlikely even during the busiest of times.
Leaky Cauldron Breakfast Menu and Prices
The breakfast menu at Leaky Cauldron includes several entree options:
Traditional Breakfast (scrambled eggs, sausage links, British bacon, potatoes, baked beans, tomato, mushrooms, croissant, and black pudding): $16.99
American Breakfast (scrambled eggs, sausage links, bacon, potatoes, and croissant): $16.99
Pancake Breakfast (pancakes, sausage links, bacon, and croissant): $16.99
Apple Oatmeal Flan with Yogurt and Fruit: $16.99
Egg, Leek, and Mushroom Pasty (pasty, breakfast potatoes, and fresh fruit): $16.99
Kid's Breakfast (Traditional Breakfast, American Breakfast, or Pancake Breakfast): $12.39
Leaky Cauldron Lunch and Dinner Menu and Prices
For lunch and dinner, Leaky Cauldron serves the kind of menu items that you might find in a British pub. The average meal price is $12 to $14. The Ploughman's Platter, which costs a little more and is advertised as serving two, is best for sharing. Lunch and dinner entrees on the Leaky Cauldron menu include:
Soup and Salad: $9.49
Toad in the Hole: $9.49
Banger Pub Style Sandwich (with wedge fries): $12.49
Specialty Chicken Sandwich (with wedge fries): $11.99
Fish & Chips: $13.99
Bangers & Mash: $12.49
Beef, Lamb & Guinness Stew: $13.49
Cottage Pie: $12.49
Fisherman's Pie: $14.99
Mini Pie Combination: $13.49
Ploughman's Platter (scotch egg, cheese, bread, cornichon pickles, apple beet salad): $19.99
Kid's Entrees
The Leaky Cauldron menu also has special entrees just for kids, including:
Macaroni Cheese: $6.99
Fish & Chips: $6.99
Mini Pie: $6.99
Leaky Cauldron Beverage Menu and Prices
The Leaky Cauldron is a great place to get the signature beverages served in The Wizarding World of Harry Potter. Beverage options include:
Butterbeer: $6.99
Frozen Butterbeer: $6.99
Hot Butterbeer: $6.99
Pumpkin Juice: $4.49
Otter's Fizzy Orange Juice: $4.99
Tongue Tying Lemon Squash: $4.99
Fishy Green Ale: $4.99
Peachtree Fizzing Tea: $4.99
Gillywater: $4.50
Fire Whisky: $8.99
Wizard's Brew (alcoholic): $8.99 (up $0.50 from 2017)
Dragon Scale (alcoholic): $8.99 (up $0.50 from 2017)
Draught Beer (alcoholic): $8.99 (up $1.00 from 2017)
Wine by the Glass: $7.00
Leaky Cauldron Dessert Menu and Prices
Popular dessert options include:
Sticky Toffee Pudding: $6.99
Cranachan: $5.99
Butterbeer Potted Cream: $5.29
*Menu prices last updated January 2018
Leaky Cauldron Photo Ops
It's hard to enter the Leaky Cauldron without taking at least a few pictures! Some of the photo ops that are fan favorites include:
Wayfaring Wizards. There is a very cool advertisement for Leaky Cauldron painted on the 'inn' portion of the restaurant. It reads Wayfaring Wizards Welcome. When you are standing outside of the Leaky Cauldron (facing the building), turn 90 degrees to the left and look through the opening in the brick wall. You'll see the numbered inn doors and the advertisement.
The Cracked Cauldron. A lot of guests like to get their picture with the large cracked cauldron that sits in the hearth in the dining hall. Other diners and Universal Team Members are usually willing to help out with the shot if you want a group photo.
Sirius Black Poster. You can find the Wanted Poster for Sirius Black hanging on the wall in the dining area. This poster was first seen in the Harry Potter and the Prisoner of Azkaban movie.
Universal Team Members. The Universal Team Members who work in Leaky Cauldron are dressed like witches and wizards. Most of them are game for a photo if they aren't too busy and you ask politely.
Review of Leaky Cauldron in Diagon Alley
Visiting the Leaky Cauldron is an absolute must for Universal Orlando guests. The theming alone is worth the trip. Harry Potter fans will especially enjoy the attention to detail. (Tip: Before you go, watch the Harry Potter and the Sorcerer's Stone and the Harry Potter and the Prisoner of Azkaban movies to get a good look at the Leaky Cauldron. Then, when you visit the restaurant yourself, see if you can pick out some of the props and other details that were replicated for the park version of the Leaky Cauldron.)
Beyond theming, you can expect to find some of the best food and beverages available in Universal Studios Florida. Remember, this isn't exactly fine dining - but it is above and beyond traditional theme park fare. If you don't go in to eat, you should at least stop by for a beverage. We always recommend trying the Butterbeer at least once, but if you're looking for something more exotic, you should try Otter's Fizzy Orange Juice or Fishy Green Ale. A non-adventurous, but yummy choice is the Tongue Tying Lemon Squash, which tastes like a refreshing lemonade.
Fun Facts About Leaky Cauldron for Harry Potter Fans
Daisy Dodderich (a witch who lived from 1467-1555) was the original owner of Leaky Cauldron.
The Leaky Cauldron's address is Number 1 Diagon Alley.
In the 18th century, the Leaky Cauldron landlord created a wizarding brand of beer called Gamp's Old Gregarious. In the 300 years since its inception, no patron has ever been able to finish a full pint of this disgusting brew.
Harry Potter stayed in Room 11 at the Leaky Cauldron after accidentally blowing up Aunt Marge.
Some of the Leaky Cauldron dishes and beverages seen on the menus in Harry Potter films include roast hog, pickled eel, steak and kidney pie, game pie, and exploding lemonade.
Leaky Cauldron Image Gallery
See pictures of the inside and outside of Leaky Cauldron in this image gallery.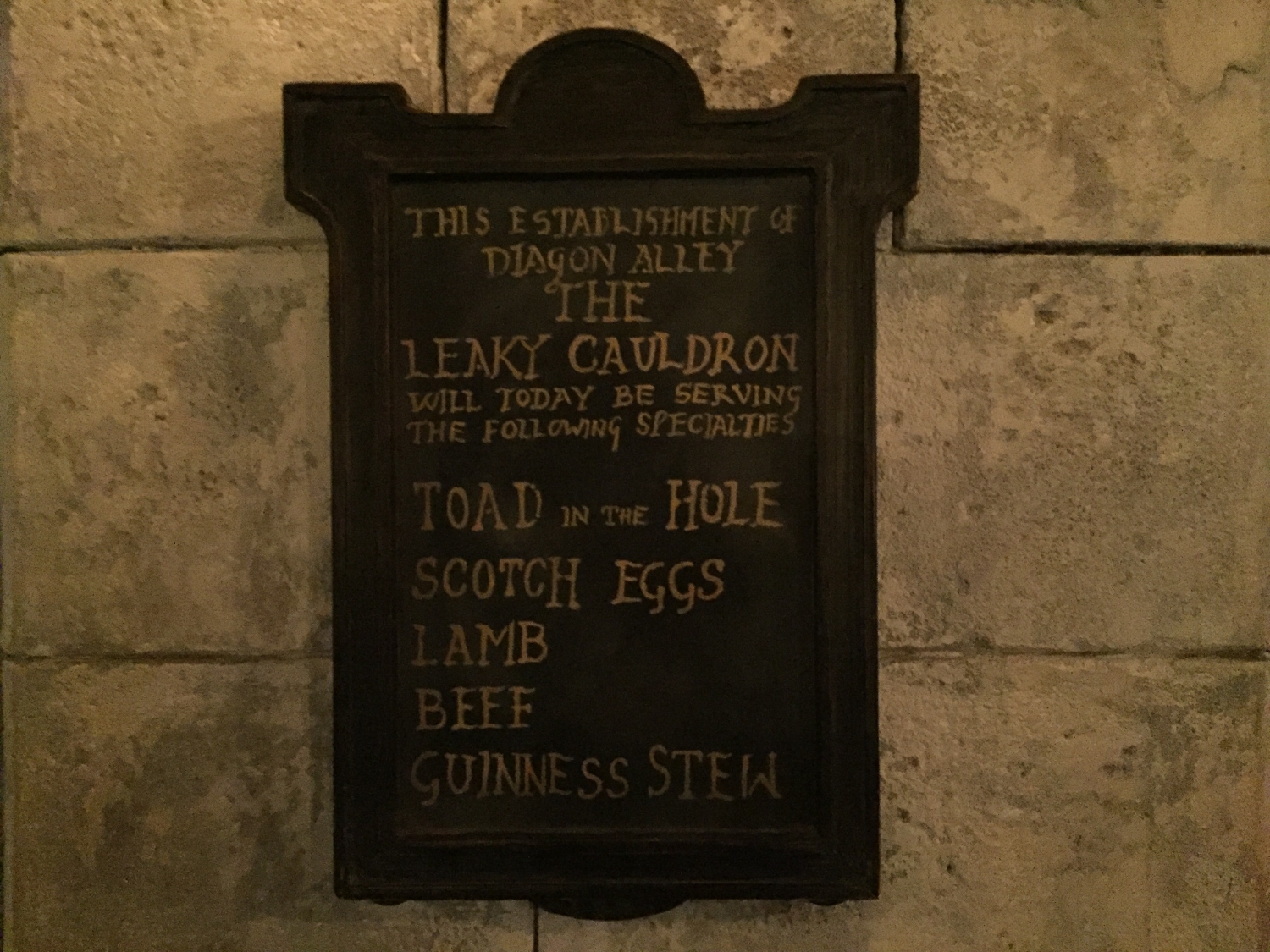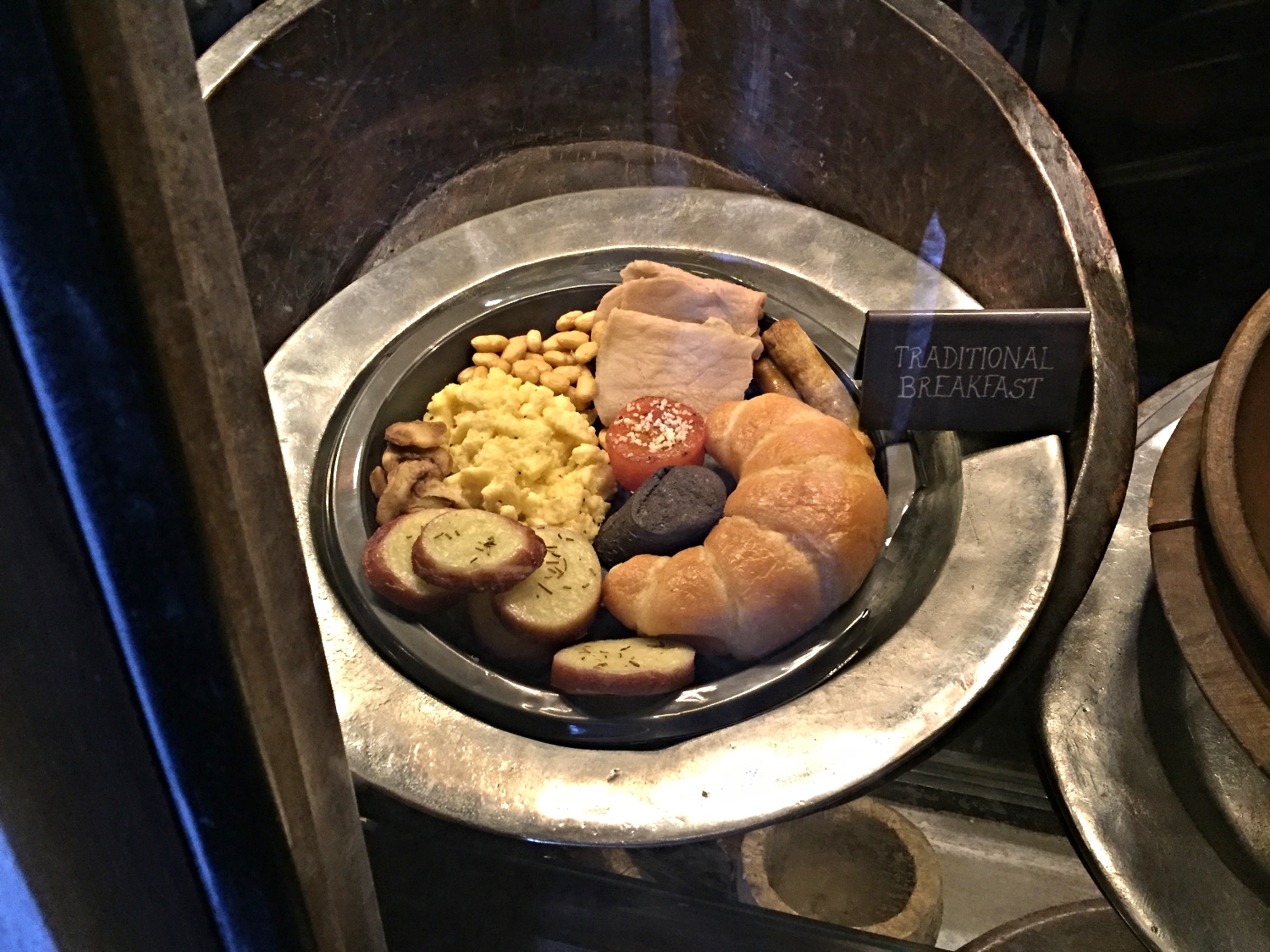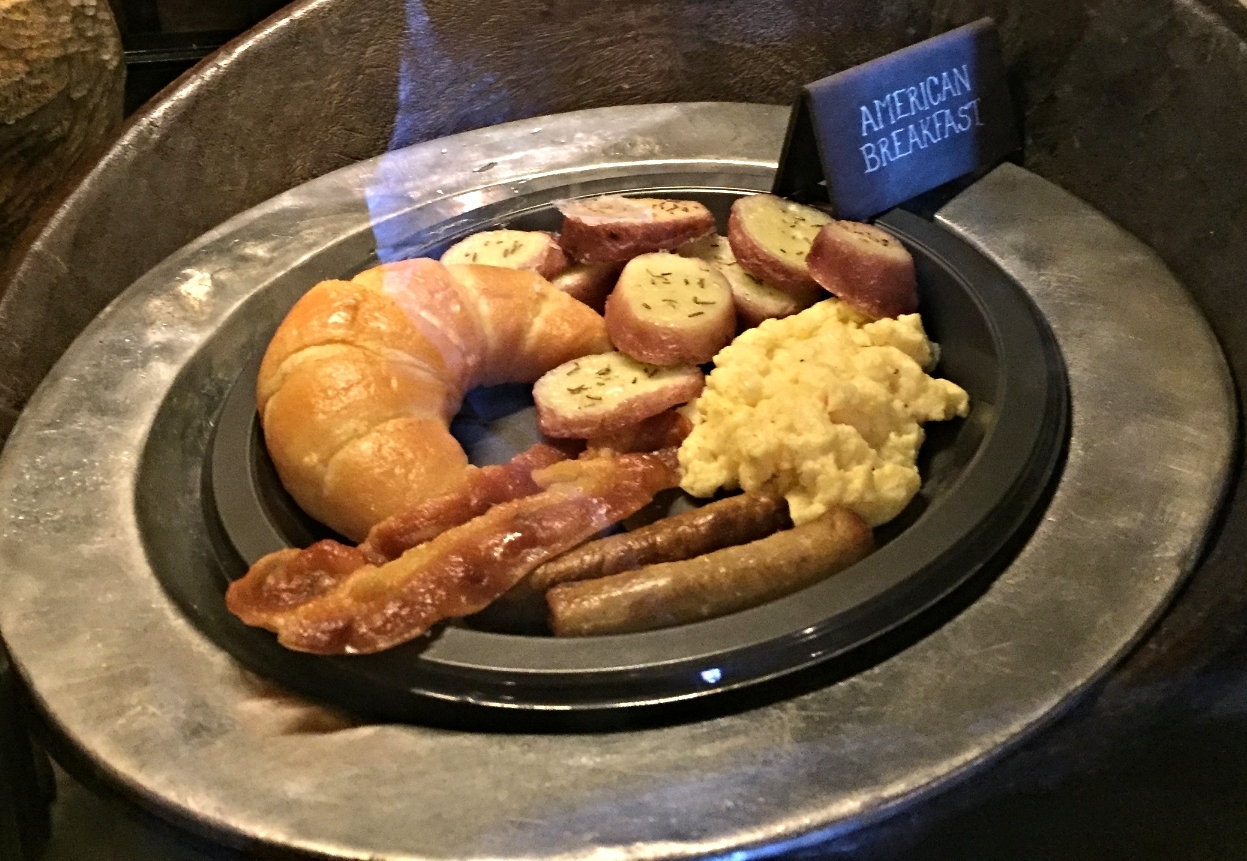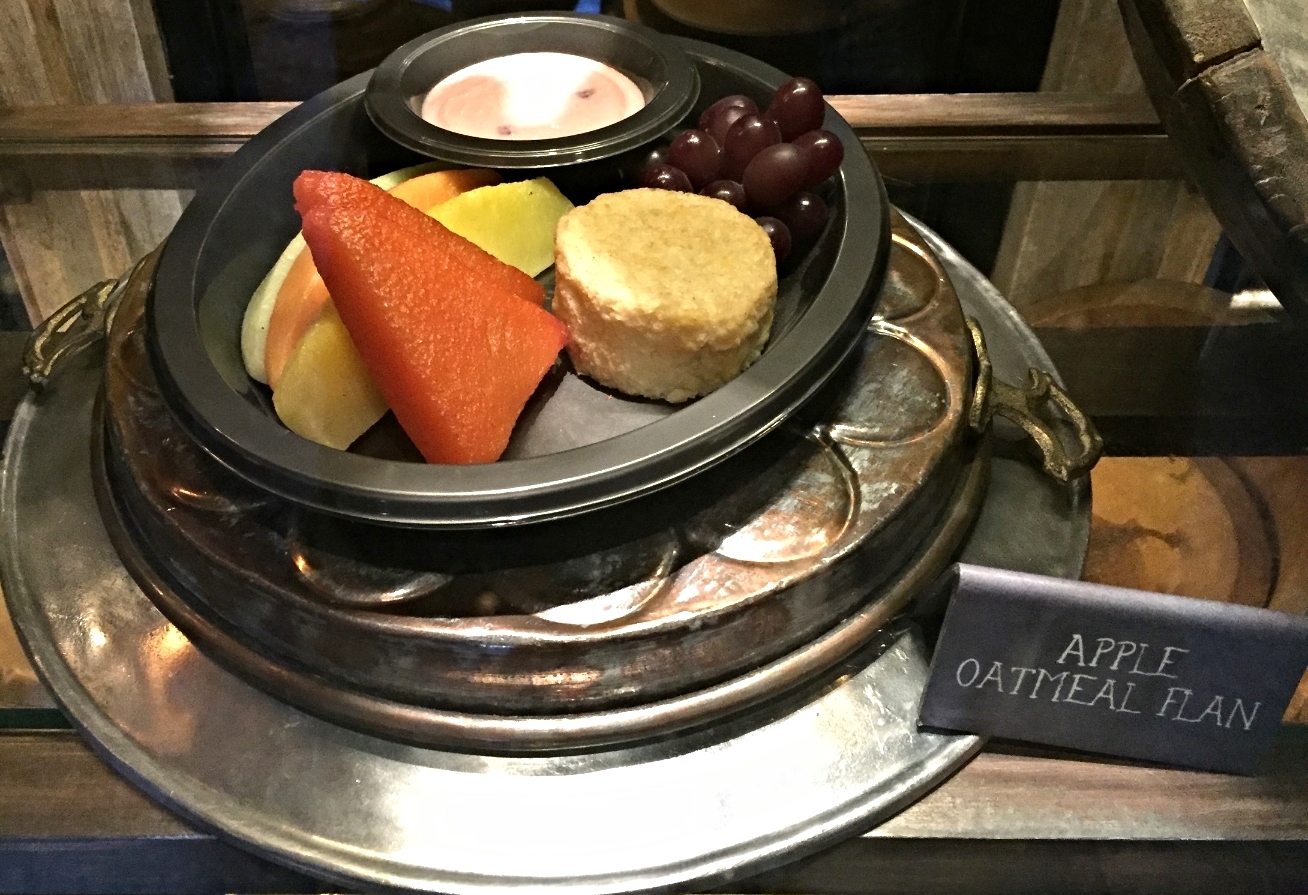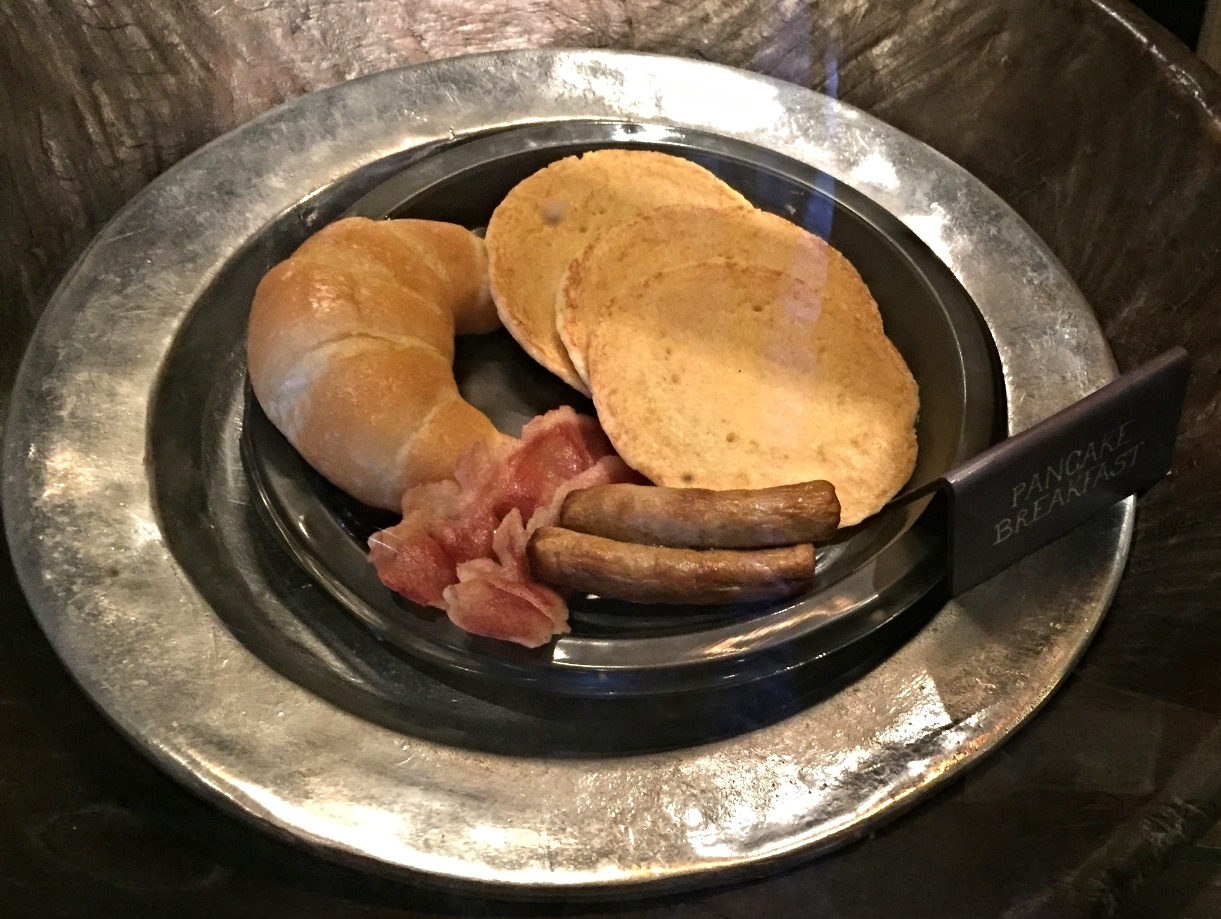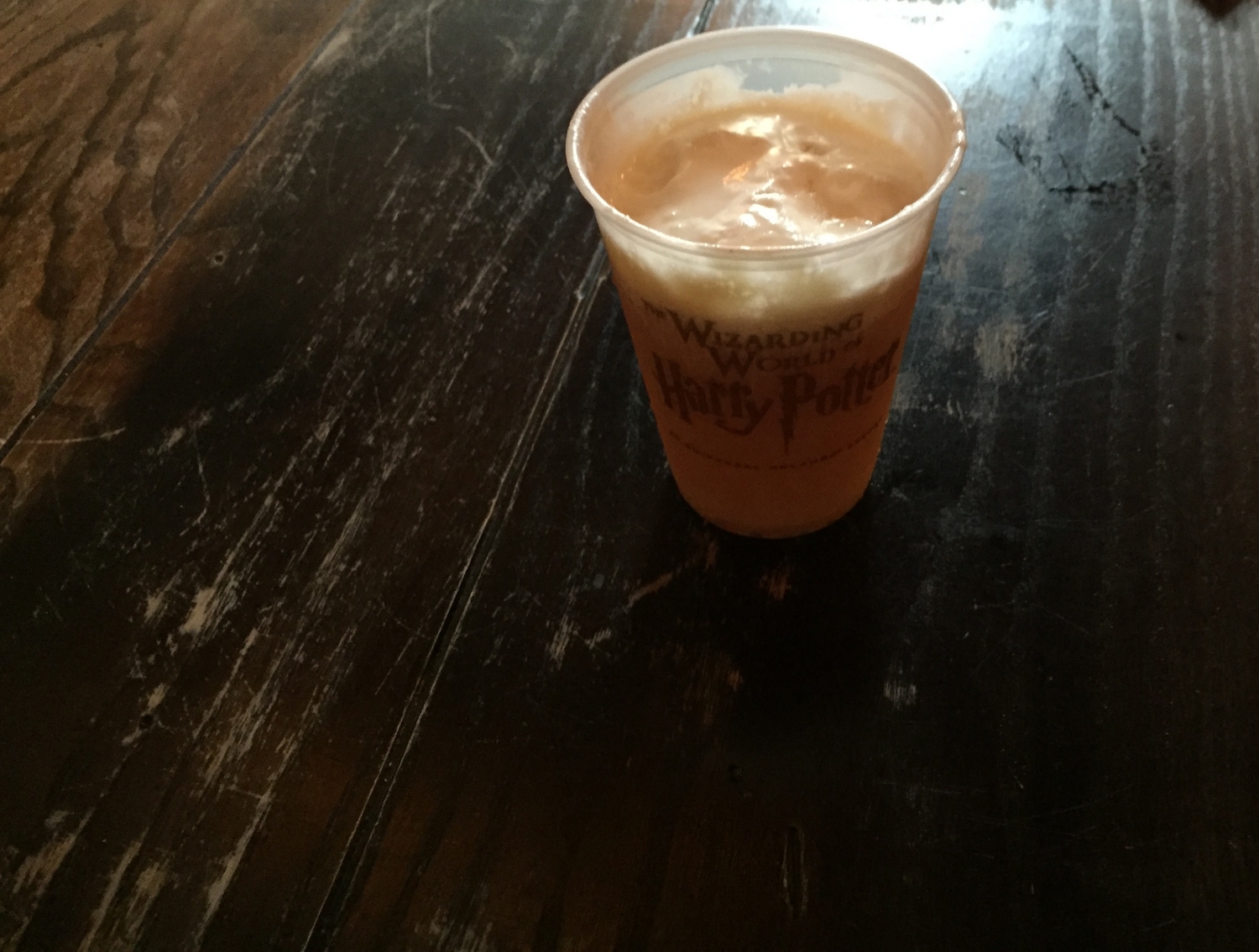 More Food and Drink in Diagon Alley
If you're looking for drinks or ice cream, consider visiting the following places in Diagon Alley: