Men In Black Alien Attack in Universal Studios Florida
Ride Type
Interactive dark ride
Location
Men In Black Alien Attack is located in the World Expo in Universal Studios Florida (USF) between Fear Factor Live and the Springfield area.
Men In Black Alien Attack Ride Description
Men In Black Alien Attack is an interactive dark ride based on the 1997 Men In Black movie starring Tommy Lee Jones and Will Smith. You experience this attraction by entering a 1964 World's Fair exhibit called The Universe and You. It soon becomes obvious that the exhibit is just a ruse. An MIB agent steps in to tell you that aliens are among us, and you have been recruited to round them up. He hustles you and the other recruits through a wall that leads to the secret underground headquarters of the MIB.
You are taken past the break room, the control center, the agents' locker area, and weapons armory on your way to the training grounds. (Be sure to wriggle some of the doorknobs as you walk down the hall; you might be surprised by the result!) You are then led to the training vehicles, which are six-passenger cars equipped with laser guns. Of course, things go awry rather quickly, and your training turns into a real operation when a spaceship lands in New York and you are called on to save the city.
There are more than 120 different alien species to target, and they are positioned in every direction you look. As your ride vehicle careens from area to area, you need to use all of your marksmanship ability to try to hit them between the eyes. Keep in mind as you are riding and shooting that you are competing with another ride vehicle on the track next to you. At a certain point, you may be instructed to shoot the fusion exhaust port of the other vehicle. If you hit it, the vehicle will spin out of control. Of course, that vehicle may also be shooting at your fusion exhaust port, so brace yourself if you're hit and start to spin as well.
At the end of the attraction, each rider gets a score based on how many (and which) targets they hit. When you exit the ride vehicle, you'll be led to MIB Gear, a gift shop with apparel, jewelry, MIB gadgets, and alien-related items.
Men In Black Alien Attack Ride History
Universal Orlando spent three years developing Men In Black Alien Attack. The ride officially opened in April of 2000. At that time, it was the largest dark ride in Universal Studios Florida. The ride's show building was erected in the former space of the Back to the Future Part III locomotive display. The locomotive was relocated to another area of the park.
Express Pass
Express Passes are accepted for Men In Black Alien Attack.
Single Rider Line
Men In Black Alien Attack has a single rider line.
Child Swap
Available
Height Restrictions
Guests must be at least 42 inches tall to meet the Men In Black Alien Attack height requirement. Guests between 42 and 48 inches need to be with a supervising companion.
Ride Restrictions
Loose items are not permitted on the Men In Black Alien Attack ride. You will need to store bags and other loose articles in the free lockers provided near the attraction entrance before you get in line for the ride.
Accessibility
Guests can remain in a standard wheelchair or transfer to a standard wheelchair. Closed captioning and assistive listening are both available.
UO Fan Guide Ride Tip
The max score that can be achieved on Men In Black Alien Attack is 999,999. You have to hit a lot of stuff to max out your score. To increase your chances, never let off the trigger of your laser gun. You should hold it down from the start of the ride to the end. In general, smaller targets tend to be worth more than the larger targets. Specific things to hit include Frank the pug (near the newspaper stand in the second room) and the green eyes on the wall that appear near the end of the ride. When Zed tells you to "push the red button" at the end of the ride, do it! Hit the red button on the word "push" if you can, and hold the button down until a bonus has been added to your score.
UO Fan Guide Mini Review of Men In Black Alien Attack
Men In Black Alien Attack is one of the most re-ridable attractions at Universal Studios Florida. Because you play a game as you ride, each ride experience is a little different. A lot of guests like to ride again and again to try to beat their previous score. This ride is also introduced in a pre-show by a Universal Team Member, which means that the intro can feel different each time depending on who is presenting it.
Men In Black Alien Attack Image Gallery
See pictures of the area around Men In Black Alien Attack and the MIB Gear store where the ride exits.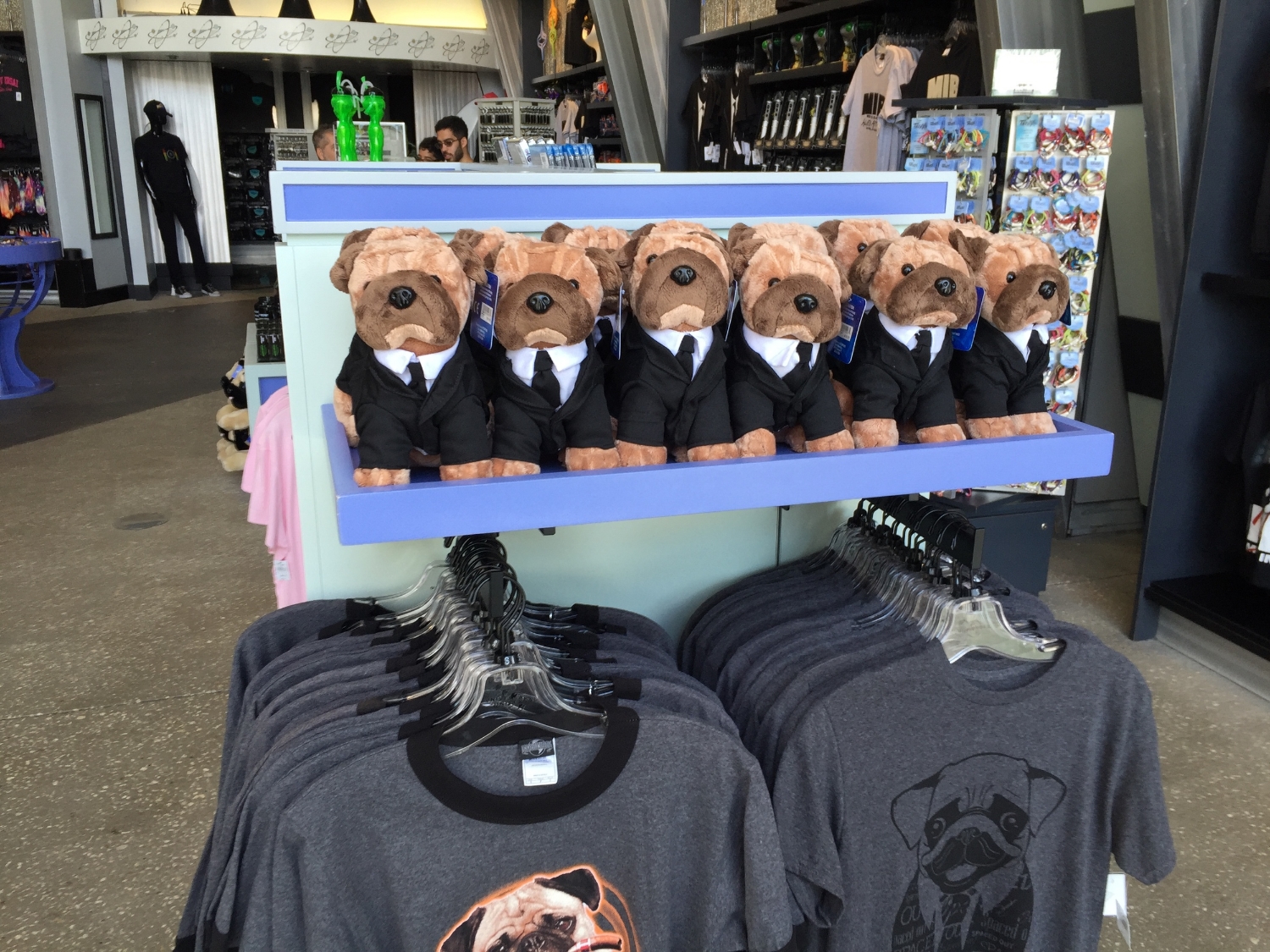 Send Us Your Review of Men In Black Alien Attack
We want to know what you think of Men In Black Alien Attack. Send us your ride review.
By clicking the submit button, you agree to let UO Fan Guide use your name and review comments on the UO Fan Guide site, blog, and affiliated social media accounts and print publications.