Shrek 4-D in Universal Studios Florida
Ride Type
4-D ride
Location
Shrek 4-D is located across the street from Despicable Me Minion Mayhem in Production Central in Universal Studios Florida (USF).
Shrek 4-D Ride Description
Shrek 4-D is a 4-D ride based on the Shrek films. It puts you in theater seats that simulate the motion of a Shrek story that unfolds on the huge screen in front of you. The ride story takes place between Shrek and Shrek 2 and features some of the best known characters from the Shrek films, including Shrek, Donkey, Princess Fiona, and Lord Farquaad. Each character is voiced by the original film star.
The ride begins with a short preshow that reminds everyone about the plot of the first Shrek movie. Guests are then hustled into a theater, where they don their 3-D glasses. The premise of the ride film is simple: Lord Farquaad, back in ghost form, has kidnapped Princess Fiona, and it's up to Shrek and Donkey to save her.
The 3-D experience is enhanced by moving seats as well as 4-D effects like mist, wind, and other special effects. The ride exits into Shrek's Ye Olde Souvenir Shoppe, which sells Shrek themed apparel, plush toys, novelty items, and other souvenirs.
Shrek 4-D Ride History
Shrek 4-D officially opened in Universal Studios Florida in June of 2003. It replaced Alfred Hitchcock: The Art of Making Movies, a 3-D film/show that opened with the park in 1990 and closed in January 2003.
Express Pass
An Express Pass can be used to skip the regular line for Shrek 4-D.
Single Rider Line
Shrek 4-D does not have a single rider line.
Child Swap
Available
Height Restrictions
Shrek 4-D does not have a minimum height requirement.
Accessibility
Guests must remain in a standard wheelchair or transfer to a standard wheelchair to experience Shrek 4-D. Closed captioning and assistive listening are available with devices obtained from Guest Services.
UO Fan Guide Ride Tip
If you don't enjoy motion simulator rides, you can request a non-moving seat. Stationary seats are great for expectant mothers, people prone to motion sickness, individuals with back or neck problems, and anyone else who doesn't enjoy motion simulation.
UO Fan Guide Mini Review of Shrek 4-D
If you're a fan of the Shrek movies, you'll like Shrek 4-D. The attraction incorporates much of the same action and humor. However, if you're a really big Shrek fan, there's a good chance that you have seen the ride movie already, which has been released in multiple forms in years past (on DVD with the first Shrek film, on Netflix where it is billed as The Ghost of Lord Farquaad, and as a DVD sampler in Kellogg's cereal boxes - just to name a few). Of course, you do get the benefit of the seats, which move up, down, and around in sync with the movie action, and the 4-D special effects, which definitely can't be obtained from a cereal box.
Shrek 4-D Image Gallery
See images of the Shrek 4-D ride building, queue, and character meet and greet in this image gallery.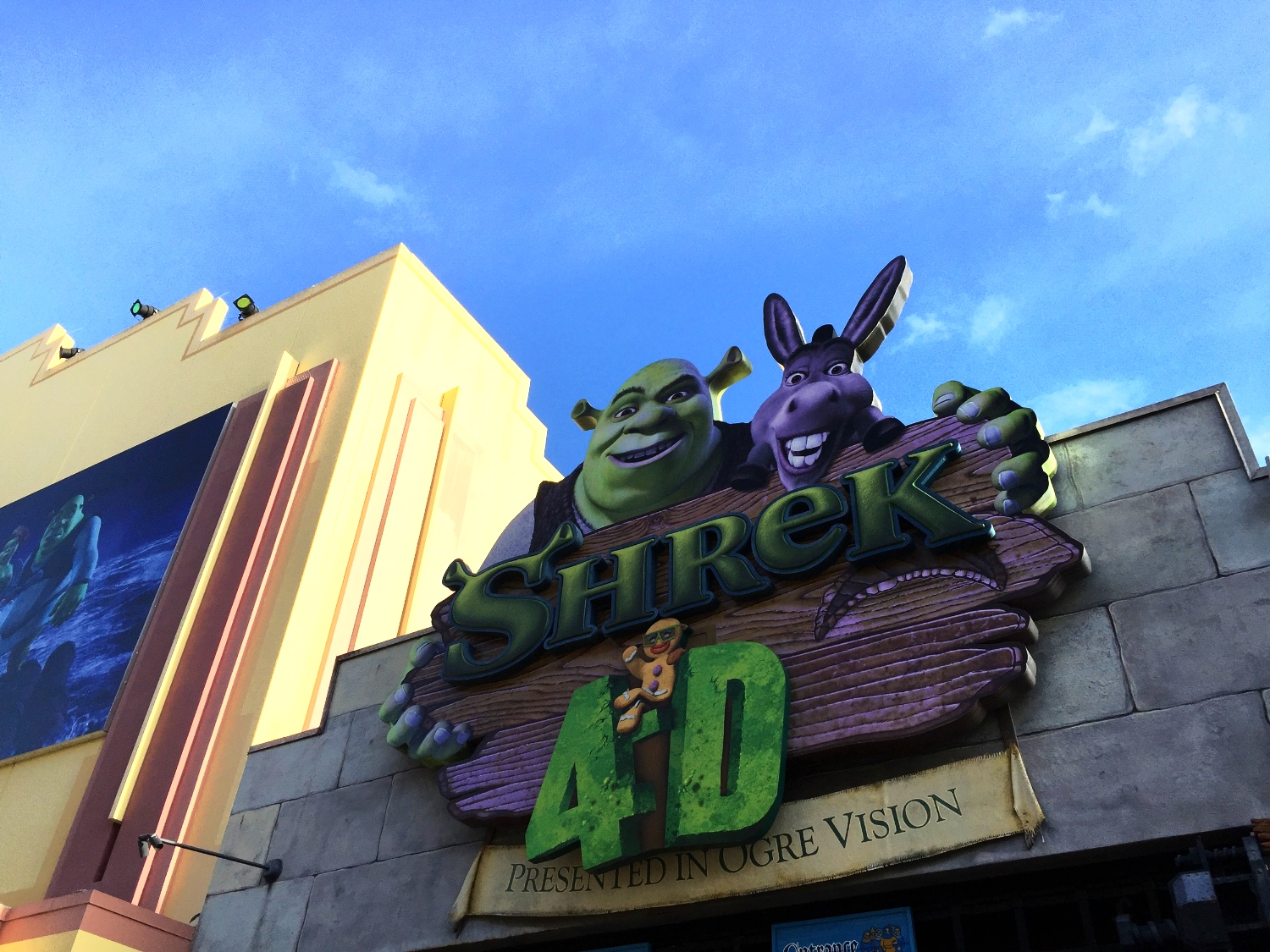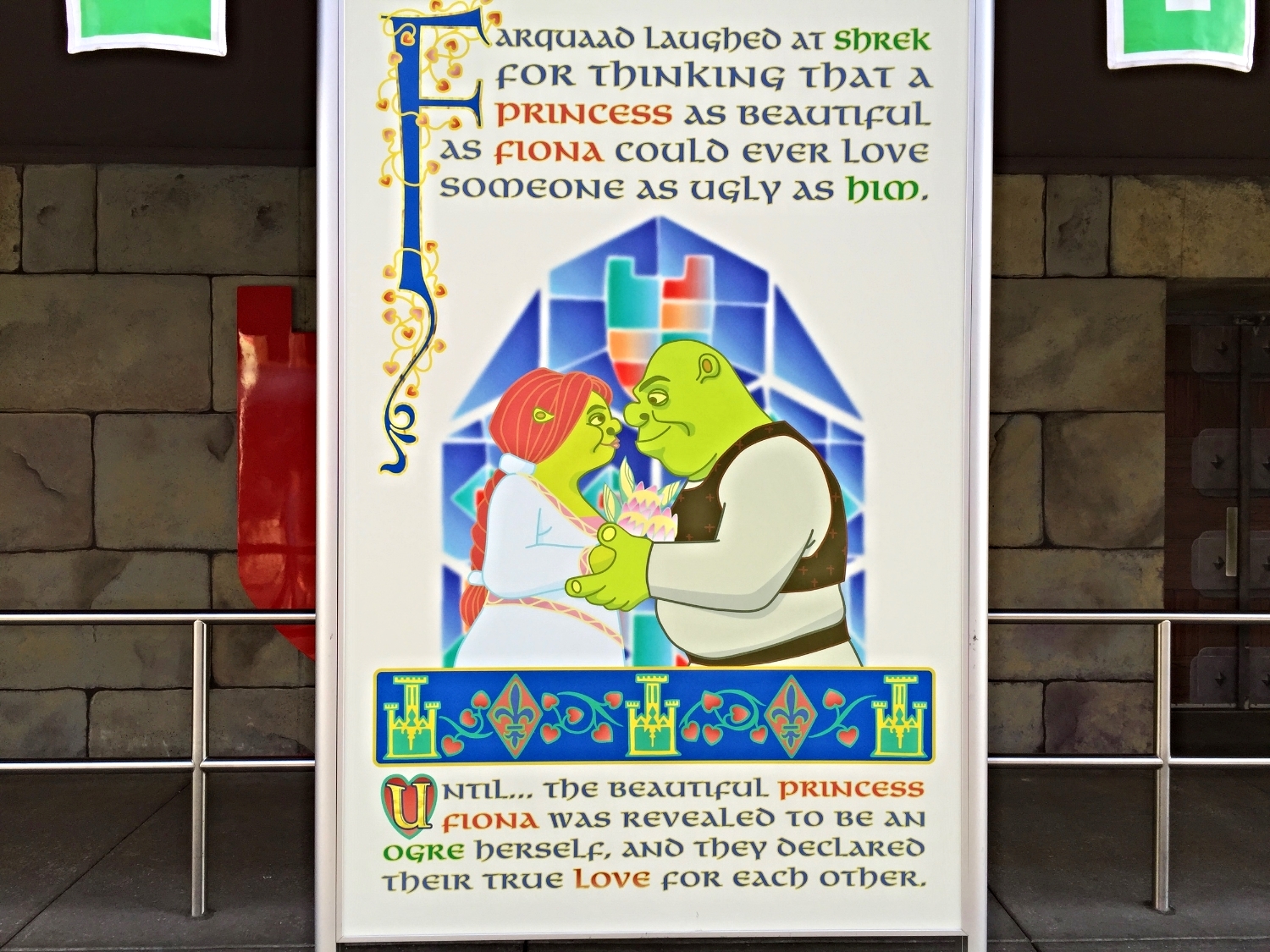 Send Us a Review of Shrek 4-D
Send us a review of Shrek 4-D to share your opinion of this ride with other UO fans.
By clicking the submit button, you agree to let UO Fan Guide use your name and review comments on the UO Fan Guide site, blog, and affiliated social media accounts and print publications.